Residential Cottage Cleaning Services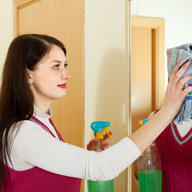 If you are looking forward to spending time at the cottage, you are undoubtedly hoping to relax. However, it's tough to relax when your living space is dirty, dusty, and musky. It's no fun walking into a messy cottage, and you don't want to spend your free time cleaning.
At Handi Maids, we have provided cottage owners, and renters, with residential cleaning services for over 17 years. We are trusted to provide professional cleaning throughout Ontario (EMBED: service area categories), and it's a responsibility we take very seriously.
We understand that cottages require a lot of maintenance, and it can be difficult for many property owners to keep up. Additionally, cottages are often left un-attended for weeks or months at a time. During an extended absence, dust and dirt accumulates very quickly, and it can make for an uncomfortable living environment.
When you hire Handi Maids to clean your cottage, you are providing yourself with peace of mind. Our professional cleaning services will allow your family to enjoy a safe and clean environment. After all, a clean environment is a relaxing environment.
If you have a cottage that needs cleaning, Handi Maids will provide you with the professional service your family deserves. Call us today!
Back
Testimonials
| | | |
| --- | --- | --- |
| | Hi Seanna, Our neighbour Sue has asked to recommend someone to do a cleaning of their parents home in Richmondhill, as they are putting it up for sale. I gave her your name and I believe she will... | |
| | Jeff | |

| | | |
| --- | --- | --- |
| | Hi Seanna; wanted to send you a quick note to say "thank you" to you and your team for helping us keep our lives organized. I can't tell you how great it feels when we come home to a clean... | |
| | Christine, Nathan and Jon | |

Seanna I just wanted to send to you and your team a thank you for extra effort in cleaning our coffee table, smudged previously. My wife was very happy to have this taken care of, and as well a...

Darrel Anderson
Newmarket, Ontario

Thanks Seanna for sending in the dream team of Kylie, Cassie and Rebecca to professionally clean my son's new home in Keswick. Great job -- looks and smells amazing -- and I sincerely appreciate...

Dek
Keswick, Ontario

Just wanted to touch base and say that I went up north this weekend with the fam and I love the work Marcus did on the interior of my cottage porch. It looks wonderful and I'm most grateful. Thank...

Maria
Cottage Country, Ontario

Seanna We've been using your company for 11 years now Just wanted to drop a note and say thanks so much for consistent service. Merry Christmas

Helen
Aurora , Ontario

I wanted to let you know that the 2 girls that came to my house today did an exceptional job. Please pass on my positive feedback to them. Kind regards, Megan

Megan
Aurora , Ontario

| | | |
| --- | --- | --- |
| | I'll definitely be recommending your business and using it again in the future - my sister was so happy! Thank you so much, Laura | |
| | Laura | |

| | | |
| --- | --- | --- |
| | The ladies did a wonderful job today. What a treat to come home to a lovely clean house. Pls thank them. | |
| | Michelle | |

| | | |
| --- | --- | --- |
| | I wanted to take a moment to commend you for your amazing staff. They did a WONDERFUL job cleaning my house today! I have to share with you that I had a *different* cleaning service in about 6 weeks... | |
| | Carol | |

| | | |
| --- | --- | --- |
| | Seanna I just wanted to send to you and your team a thank you for extra effort in cleaning our coffee table, smudged previously. My wife was very happy to have this taken care of, and as well a... | |
| | Darrel | |

| | | |
| --- | --- | --- |
| | Thanks Seanna for sending in the dream team of Kylie, Cassie and Rebecca to professionally clean my son's new home in Keswick. Great job -- looks and smells amazing -- and I sincerely appreciate... | |
| | Dek | |

Hi Seanna Quick not, girls did just amazing work in master shower yesterday! Thanks

Amber
Markham

Thanks girls. It's such a pleasure to come home to clean floors! U make my day! Cheers

Rhonda
Richmond hill

Dear Handimaids, It was such a delight to come home this afternoon The house was sparkling! Thanks so much, see your crew in 2 weeks.

Sara
Richmond Hill

| | | |
| --- | --- | --- |
| | Hi Seanna, Thanks again for sending Kady, Jacky and Jane today. They are so fast and effective cleaners. I was home today and noticed how hard they work. Just wanted to say thank... | |
| | Lyne B | |

| | | |
| --- | --- | --- |
| | Hi, Thank you to you and your team for cleaning my house on Tuesday. It looked great. I am hoping to schedule our next cleaning in four weeks. Thank you | |
| | Anne | |

| | | |
| --- | --- | --- |
| | Once again I would like to give a shout out to the 3 ladies that cleaned my house today! Fantastic job. Your hard work and attention to detail does not go unnoticed and definitely does not go... | |
| | April | |

| | | |
| --- | --- | --- |
| | Handi Maids, With many, many thanks for the great service over the years!! | |
| | Leslee & Bryan | |

| | | |
| --- | --- | --- |
| | WOW!!! Please pass on to the 2 wonderful angels who cleaned my house today, that they did an amazing job!! If possible could you please have these 2 ladies clean my house every week. Positive... | |
| | April S | |

| | | |
| --- | --- | --- |
| | I would just like to comment on the quality of work I have received. I found your company online and read all the reviews. The quality of work that your girls perform are absolutely incredible.... | |
| | Victoria N | |

Thanks for always accommodating my schedule! Great working with your company! Girls did amazing work today!

Tina S
Newmarket Ontario

Just wanted to drop you a note, the ladies today did a fabulous job! Have a great weekend!

Sheila H
Keswick, Ontario

Handi maids has offered a level of service which in my opinion is far superior to the competition. Way to go Handi Maids

Gail S
Richmond Hill, Ontario

My bathrooms were sparkling today! Please pass a special thanks to the ladies who cleaned my home today!

Debbie V
Richmond Hill, Ontario

You always seem to fit me in, when Im in a pinch! Thanks again. Once again an excellent job completed by the ladies yesterday!

Janine L
Markham, Ontario

After having Handi Maids in the first time to clean my home, I was very pleased. The quality of work was exceptional, and the ladies were polite, energetic and a pleasure to have in my home....

Troy F
Aurora, Ontario

Coming home Fridays after work knowing it's the weekend is such a relief. Coming home Fridays knowing my house is clean for the weekend puts a smile on my face! :) Thanks Seanna and the ladies at...

Terry K
Newmarket, Ontario

| | | |
| --- | --- | --- |
| | I just wanted to drop you a line. I had a pretty terrible day at work today. Coming home to a beautifully clean house was the best therapy ever. The little details neatly folded towels, clean floors... | |
| | Aurora, Ontario | |

I have been a customer for 11 years now and appreciate the hard work the girls provide me. It is a pleasure dealing with your service and really allows our family to spend more time together....

Yvonne
Newmarket, Ontario
View All